SAME DAY SHIPPING AVAILABLE







If you want to get attention these Tube Dancers™ are the way to do it.
The high output Air Vortex™ fan rushes air up through the dancing
balloon and gives the dancing balloons motion. Dancing inflatables are available
in many different designs or give us an idea and we will make you a custom design.
Our new 24" Maxi Air Vortex fan works with a 25-30ft Tube dude.
See size difference from 15ft size below.
(Both the diameter and height are larger)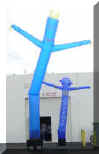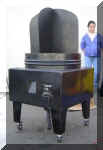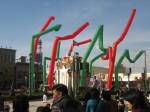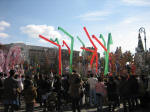 Type of Dancer
Cost of Maxi Air Vortex™ Fans
Cost of Fabric Dancer
Package Price
50' Tubie™
$890
$490
$1290
25' Tube Dude with Maxi Fan
$890
$790
$1590
Artwork can be added to any design for $100.00 to $200.00 depending on complexity

The Tube Dancers™ add excitement with the body and arms flying in all directions. If you want to attract people this is the way to do it. The single leg models use one Air Vortex™ Fan and the dual leg models use 2 Air Vortex™ Fans. Pricing depends on size, shape and artwork.
Feel free to call us with any questions 800-564-2234 949-586-8470 intl.