| | | | |
| --- | --- | --- | --- |
| Size of Balloon | Banner Size | Type of Material | Cost (US$) |
| 10 Foot Tall | 2 feet by 4 feet | 7.5 oz. urethane coated nylon | $1,290 |
| 15 Foot Tall | 4 feet by 7 feet | 7.5 oz. urethane coated nylon | $1,890 |
| 20 Foot Tall | 5 feet by 9 feet | 7.5 oz. urethane coated nylon | $2,390 |
| 25 Foot Tall | 7 feet by 14 feet | 7.5 oz. urethane coated nylon | $3,190 |
| 30 Foot Tall | 8 feet by 16 feet | 7.5 oz. urethane coated nylon | $3,490 |

| | | |
| --- | --- | --- |
| | | 28 foot with banner |
| | | 28 Foot |
| | | |
| | | |
| | | |
| --- | --- | --- |
| | | |
| 28 Foot | 28 Foot | |
| 28 Foot | 28 Foot | 24 Foot |
| 24 Foot | 18 Foot - Custom | 8 Foot |
| 8 foot | 8 Foot | 24 Foot Stars & Stripes |




These advertising balloons are powered by a continuously operating electric fan. The fan mounts at the bottom of the balloon and can be powered by 110V or 220V electricity. They fold up and can be transported in the storage bag in the trunk of your car. The enormous size of these advertising balloons make them real big attention getters!!!
We regularly ship our balloons worldwide and they come as a complete package including:
Hot air shaped advertising balloon made from the finest materials
Sewn together with industrial double needle sewing machines
Heavy duty inflation fan
Custom banner for front of balloon
12 tie down straps
Extension cord
Storage bag
Instruction manual
The 18 through 28 foot styles include a 1000 watt lighting system and heavy duty timer.
Above & Beyond manufactures four different size hot air shaped advertising balloons(8 foot, 18 foot, 24 foot, 28 foot). We rent and sell our advertising balloons. We rent the advertising balloons in the Southern California area only. Please feel free to view our SOUTHERN CALIFORNIA RATE SHEET. To receive a quote on rentals in other parts of the country please E-mail us what city and length of time that you are interested in renting the advertising balloon and we can refer you to one of our qualified dealers.
We provide a full service including:
Installation of 28 foot tall balloon at site
1000 watt internal lighting system
SUPER SALE or GRAND OPENING banner
Removal of balloon from site
24 hour service to solve any problems
Custom banner painting
Our large advertising balloons target your most potential customer - THOSE WHO PASS BY YOUR LOCATION. Our advertising balloons have been used by hundreds of companies to promote retail sales, special events, grand openings, quitting business, trade shows, parking lot sales and sponsorship opportunities. Our advertising balloons have proven themselves to attract IMMEDIATE attention.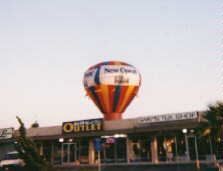 If you have 1 location or 1000, we can tailor a program to suit your needs. We manufacture, store, clean, ship, and repair balloons in our own facility in Southern California.
---
---